Do you want to order for the free Travello coffee mug on brewestic.com? Are you wondering if it's scam or legit? Would you receive the exact mug? Read this review to find out!
Brewestic is a new coffee maker brand that just pushed out its coffee maker 'Brewmaestro' into the market place. The brand also make coffee pods which they call brewestic brew pods. In order to make their product popular, they're offering 'coffee mugs' for free. The exciting thing about this promo is that customers don't have to pay for shipping or anything at all.
However, the question is 'Could the free offer be real?' would you really receive a coffee mug for free? Continue reading to find out more about this company.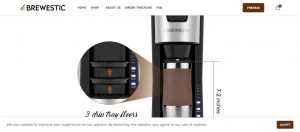 Is Brewestic.com a Scam?
First of all, what we found suspicious about this coffee brand is that there's zero information on their website about who they are, where they are based, or even means with which they can be contacted. This is quite unusual for a brand that is trying to penetrate the market place. Why the anonymity?
Meanwhile, Brewestic is not a registered business and BrewMaestro is not a registered trademark, despite having the ® after its name.
Secondly on the 'About Us' page they claimed they initially started in mid 2021, however we couldn't get any information about that. In fact, prior to May 2022, there was nothing online about Brewestic or Brewmaestro. Meanwhile, their website 'brewestic.com' was registered on 4th April 2022. So it clearly shows the company was not existing before 2022. So why the lie?
Thirdly, someone has left a 1 star rating on Trustpilot for this company. However, we can't tell why the person called Brewestic.com a scam. Could it be that his free mug was not delivered? Did he receive a bunch of spam mails? We can't really tell.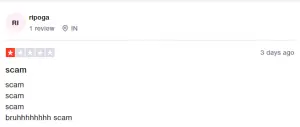 Conclusion
Brewestic.com is a viral coffee maker website offering Travello coffee mugs for free. However, it has to be fake. If you Google "Brewestic," the only result is that website. No social media, no write ups about the business. Photos are just generic products that have "Brewestic" pasted on them. The only products they sell are a single use coffeemaker and medium roast pods. No variety in roast, flavor, or quantity.
This is a very common scam. There have been 2 other similar coffee sites within the past few months alone.