Looking for a super solar powered spotlight? Do you want to buy Bionic Duo light this May 2022? Read this review to find out what users think about this Bell and Howell Spotlight.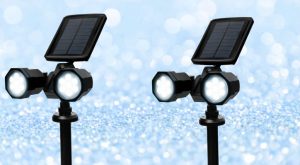 What is Bionic Duo?
It is a solar powered spotlight manufactured by Bell and Howell. It works this way – uses a red motion sensor that detects motion and triggers 14 high-intensity LED lights on two features that light up the 1000 square feet.  This affordable light only takes few minutes to install, without the help of a professional.
One of its best feature is that it does not require batteries or electricity to operate. It has built-in industrial quality solar panels that absorb the sun's rays during the day and uses that stored energy for an all-night's worth of illumination.
Meanwhile, the official website for this product is bionicduo.com
Features
Independently Adjustable
Multi-directional
Automatic ON & OFF – Has sensors that turns on light when it detects movement
Doesn't need a professional for installing
Does not require electricity to operate.
Things You Should Consider Before Buying Bionic Duo Light
Battery Does Not Last
One of the major complaints of users is that the battery does not last. The solar battery gets low before midnight. This could be as a result of low battery capacity or a poor sensor that detects both waves from trees and movements of objects.
Not For All Seasons
Bionic Duo doesn't work in all seasons. In fact, it can't stand the harsh winter season. You have to take it down for winter, so it can only be used for part of the year.  This shows Bionic Duo isn't rated for outdoor use.
The Solar Panel Does Not Rotate
You need to put into the ground with the panel facing the sun for most of the day. The panel does not rotate separately from the part that pokes into the ground.
Bionic Duo Review
On Amazon, 9 of this solar light users have left 3.4 star ratings for the product. This shows Bionic Duo is an average spotlight per se. One user has this to say –
Worked on and off for couple nights & then needed to be "tweaked" (on/off button pressed) to work. Believe product to be an insult to the Bell & Howell name. Lights seem fairly bright but projection distance minimal, really making the item not useful for our needs. If it's not going to work 100% of the time, what good is it? It gets entire day of direct California desert sun so I don't want to hear from seller that it wasn't sufficiently charged.

Millie
Is Bionic Duo a Scam?
Bionic Duo Light is not a scam per se. However, buyers should not have high expectations. One of the downsides of this solar spotlight is that the battery does not last all through the night. This is quite disappointing as it get charged all through the day. Meanwhile, it's quite terrible in winter.
Conclusion
Bionic Duo appears to be an average spotlight compared to Ever Brite. Majority of users complained that it doesn't last till midnight, and isn't effective in Winter. However, the result varies. If you live in a low traffic area, the solar light lasts all through the night.
Have you bought Bionic Duo ? What are your experiences so far? Please share on the comment section!
Prefer to do so anonymously? All you need to do is go here >>>> Fill The Form