Did you receive an email from Best Buy that claims your password reset didn't work? Beware! It is a scam. Lots of people have received this suspicious email from Best Buy, and surprisingly most of them don't have a Best Buy account. Read this review to find out how the scam works!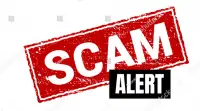 Best Buy Reset Password Reset Scam Email- How Does This Scam work?
Best Buy Scam Reset password email is actually legit. First of all, it comes from the official Best Buy email address. Secondly, when you click on the link it takes you to the legit best buy website which is bestbuy.com.
However, you received the email because a scammer is running a list of email addresses through the bestbuy site trying to get into accounts. This means your email address is in the wrong hands, and if you really have a best buy account, the scammer would've tried to hack into your profile.
 So in reality, it's a legitimate best buy email. However, someone is entering your email via script into the bestbuy website. As you don't have an account or registered email address with Best Buy, they are sending you an email to say so. They know your email address because someone just entered it into their site.
See the conversation about this on Best Buy support on Reddit.com
How To Protect Your Email Account From Hackers
Afraid of having your email address compromised? See the following tips on how to protect your email account from scammers –
Create a strong password
Avoid the temptation of reusing passwords on multiple accounts.
Turn on two-step verification.
Do not share your password with anyone.
Avoid opening attachments unless you already know what it is
Received Best Buy Reset Password Email? Do The Following!
You should delete the text message immediately as it is obviously a phishing scam. Meanwhile, do not forget to inform your family and friends. Please they should not click on the link if and when they receive such message.
Also, you can report scams, untrustworthy websites and tell us why you consider the websites fraudulent. See similar phishing scam; Wal Tracking Scam, Delware BPO Scam, Publix 90TH Anniversary, etc.