Do you want to work as an Amazon product tester? Are you thinking of sending an application to basicstester.com? If yes, you're not alone. I also came across the website and I've brought you my honest review of it.
Basicstester Com Amazon Product Tester- My dream work from home Job
So I stumbled on a TikTok video were a lady spoke of earning $45 from Amazon Basicstester. According to Sophia, she earns almost $3000 a month by simply testing Amazon products. Sounds pretty simple right? The idea of getting freebies and discounts on products that you like is a dream come true for many people. But there's more to it. This is what an Amazon Product Tester job entails –
 Review Amazon free samples as well as purchase them at a discounted rate to provide an unbiased review.
Provide sellers with input about their product so they can continue to improve their offering for the marketplace
However, basicstester.com cannot make you an Amazon Product Tester. From my findings, it is not a legit Amazon tester job website.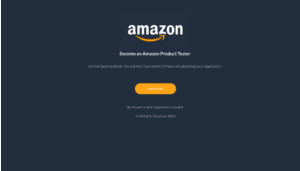 Why It's a Scam;
Recently Registered:
According to who.is (a website that gives accurate information on websites creation date) basicstester.com was registered on February 2023. It is not even up to a month old. So it got me wondering how Sofia claimed to have earned up to $3000 already? It is certainly fishy!
Not Linked to Amazon
basicstester.com is not an official Amazon website. In fact, there's only one website for Amazon job application and it is amazon.jobs, every other website out there is selling you a big fat lie.
Formerly Known as Tryhomebasics.com
basicstester.com was formerly tryhomebasics.com. The design of the scam websites mimic that of the official Amazon website — this is done so people are more likely to believe that it is legitimate (which it is not). However when you click Apply now you would be requested to submit lots of personal data such as your name, address, email address, and Social Security number — all data that is normal to give to employers, but very dangerous when in the hands of scammers. And by submitting your data on the site, the scammers would have access to it and could use it to commit any number of crimes/cybercrimes in your name or use the information to hack into your bank account/online accounts.
How To Become a Product Tester for Amazon
There are very few ways that you can become an Amazon product tester. You have two options: you can use a third-party program to get partnered with sellers in need of testers or use the Amazon Vine program to review products directly on Amazon.
However, you need to know that the Amazon Vine Program is invite-only and can be difficult to get into. Our advise? try third party programs. There are reliable programs out there that exist to partner new sellers with consumers just like you. Store owners provide a free product (100% yours to keep) in exchange for your helpful feedback. 
How Much You Can Earn as an Amazon Tester
According to ziprecruiter.com, as of Mar 17, 2023, the average annual pay for an Amazon Tester in the United States is $57,058 a year. This is approximately $27.43 an hour. This is the equivalent of $1,097/week or $4,754/month.