Do you desire silky smooth and professional-looking straight hair? Do you want to buy Aulangestin hair straightener? Don't do so yet! This honest review exposes everything you need to know about this flat iron straightener.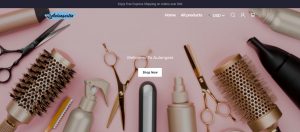 Aulangestin Hair Straightener: What Is It
It is a flat Iron hair straightener that transforms unruly hair into silky smooth and professional-looking straight hair. It works this way – uses constant temperature to heat each strand of hair.
Does Aulangestin Straightener Really Straightens Hair?
We can't really say if Aulangestin works in straightening hair or if it is worth the price it is sold for, however the brand has some inconsistencies. First of all, aulangestin.com claims to have been operating for twenty years, but this is false. According to who.is, it started operating in March 2022. Meanwhile for a 20 year old brand there are absolutely no reviews online about it. Suspicious right?
Secondly, it's owned by an untrustworthy company 'Vankin Company Limited'. It is the parent company of a lot of shady online stores. The company operates from China. The London address is just a disguise to buy customer's trust. So yeah, the products are coming from China not UK or USA like you thought.
Cons
Sold by a suspicious company located in China
Shipping and delivery takes weeks or months
Formerly named licautabl an inferior flat iron
Customers have to pay return shipping fee
Conclusion:
Aulangestin is a viral hair straightener sold by aulangestin.com at discount price. However, the low price is just a bait to lure buyers. In reality, customers wouldn't get the value of their money.