Thinking of getting the Air Whirl Crisper Lid? Are you looking for healthy ways to fry food without grease? Can Air Whirl Crisper really turn ordinary pan into a super-fast, stove top air fryer? Read this review to find out!
Air Whirl Crisper Lid: What is it?
It is an innovative cooking lid that fries food fast, easier, and healthier. It works this way – its supercharged turbo fan circulates air that creates a swirling hot convection oven inside your pan. You don't need to worry about grease.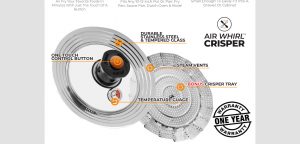 How to Use
Place Food On Crisping Rack
Cover with Lid & Press Button
Enjoy Perfectly Crisp Foods
Is Air Whirl Crisper Really a Simple & Easier Air Fryer?
We really can't say how effective it is as there are no reviews online yet, and our order is yet to arrive. However, for the price which is $59.99, customers shouldn't have high expectations. Meanwhile it's quite worrying that it lacks preset options.
Air Whirl Crisper: Pros & Cons
Aside the current Buy 1 get 1 off 50% discount, it is one of the affordable air fryers in the market. It is also portable, uses battery, has large crisping tray, and is covered by a 1 year limited warranty. However, because it is a recently launched product, there's the possibility that the remake wouldn't be as strong as the first batch. There's also the possibility of it under-performing compared to the sturdier air fryers in the market.
Conclusion
Air Whirl Crisper is a viral air fryer that's been sold for huge discount. However, just like Suvie Robot, users should not have high expectations.